3" Universal LED Light Kit With Side Shooters
One of our most popular lights in the lineup is our 3" side shooter led light. There are endless mounting possibilities on these perfectly sized powerhouses. These are perfect for any application that needs an ultra-wide spread beam with industry-leading long-range distance.
The lights feature our EPR lenses the greatly increase the output of the LED chips while having nearly 180 degrees of side to side illumination. Sold in pairs or singles, the side shooter lights have three LED chips precisely place on the sides of the reflector for broad and powerful light output whether they are bumper, pillar mounted ditch lights, roof, or rack-mounted.
When you're off-road with these light pods you can be sure no obstacles will sneak up on you. The amount of lighting technology that's packed into these compact lights creates a massive wave of light that drowns the darkness in a seamless beam pattern with no dark spots.
Ironman 4x4's Tri-Force technology
We wanted to re-define what LED lights and light bars are on the market. We set out to bring a seamless blend of performance and value with our line of LED lights. We developed Tri-Force technology, which is the 3 pillars of performance that go into all of our LED lights. Bringing a new standard in off-road lights in performance and value.
Extreme Projection Reflectors (EPR)
After extensive testing in the Australian outback and seeing the shortfalls in beam pattern from other lights on the market, we developed EPR Tech. Starting with the bucket depth and shape all the way down to revamping the polishing process, we left no stoned unturned. The result; the most usable beam patterns on the market that cover the ground in a seamless blanket of light. The symmetrical beam is a mixture of optimal proportions of side to side and foreground lighting with a hyper long-range center beam for when you reach higher race type speeds.
Corrosion Defense System (CDS)
We wanted to stand out, in the look of our lights and also with the quality and durability. The engineering of the CDS (Corrosion Defense System) coating came about after months of R&D that consisted of ultra-violet, salt spray, and vibration testing; all while watching the competition fall apart. The impressive look of our gunmetal color has been upgraded with a precise mixture of hardeners and flex components that far exceed the fade and chip resistant capabilities of any other light coatings on the market.
Advanced Optical Clarity (AOC)
Applying similar manufacturing processes from high-end watchmakers, we developed what we believe to be the highest optical clarity and UV fade resistance lenses to date. You can be assured the entire light output produced from the LED chips and reflectors are not getting hung up by the lens.
Trail Tacoma Reviews the 3" Universal LED Light
"I even froze both of my ditch lights in solid blocks of ice in a record-breaking snowstorm. These lights are utterly unfazed and continue to look and perform like they're brand new. I could not be happier with the durability, output, and usability of these universal pod lights." –Trail Tacoma, read the full review here.
Trail Tacoma puts the 3" Universal LED Light Kit on display: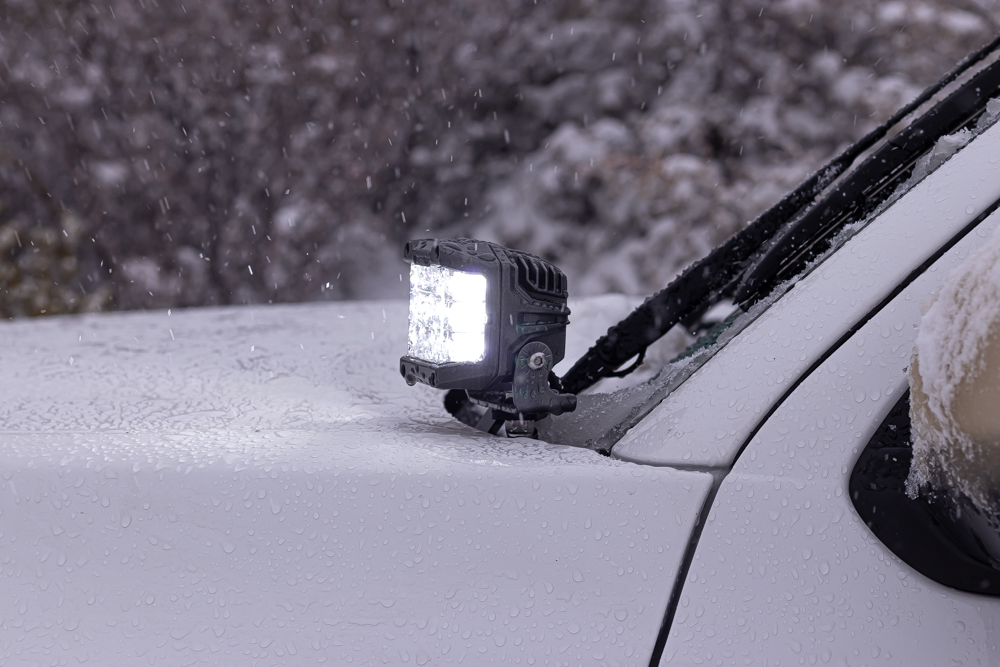 What Other Customers Say:
"The shop I work with has over 70 years of combined experience working on 4x4's. They installed these and said I quote "these things are rigid bright" but half the price. That spread is incredible! Thanks guys!" - Anonymous
Specifications
6000K white light to imitate natural daylight
140-degree beam spread
Shockproof Polycarbonate Lens
Featuring 3W high lux output Osram LED's
Output: 30W high lux
Rated to IP67
Capable of submersion and high-pressure water blasts
Operating voltage 10-30V DC
Lumens: 2850 raw
Lux/10m: 88lx
Current: 1.69A@12V / 0.84A@24V
LED Chips: 9x2W / 5x2W
Waterproof Deutsch Plugs included
This Kit Includes
Two 3" Universal LED Lights
Dual Light Wiring Harness
Ironman 4x4 | Putting the Lighting Game on Notice