Trail Tacoma's in depth review and install of the Ironman 4x4 Stage 2 Lift Kit suited for 3rd Gen Toyota Tacoma
IRONMAN 4×4 FOAM CELL PRO STAGE 2 STEP-BY-STEP INSTALL (& INITIAL REVIEW) FOR 2ND AND 3RD GEN TOYOTA TACOMA
When looking for a new suspension kit for your Toyota Tacoma, a less frequently mentioned company is Ironman 4X4.
I spent a vast amount of time researching the best kits for my truck, considering products from Eibach, OME, Fox, and Bilstein.
Just when I thought I was ready to make a decision, I discovered Ironman 4X4.
OVERVIEW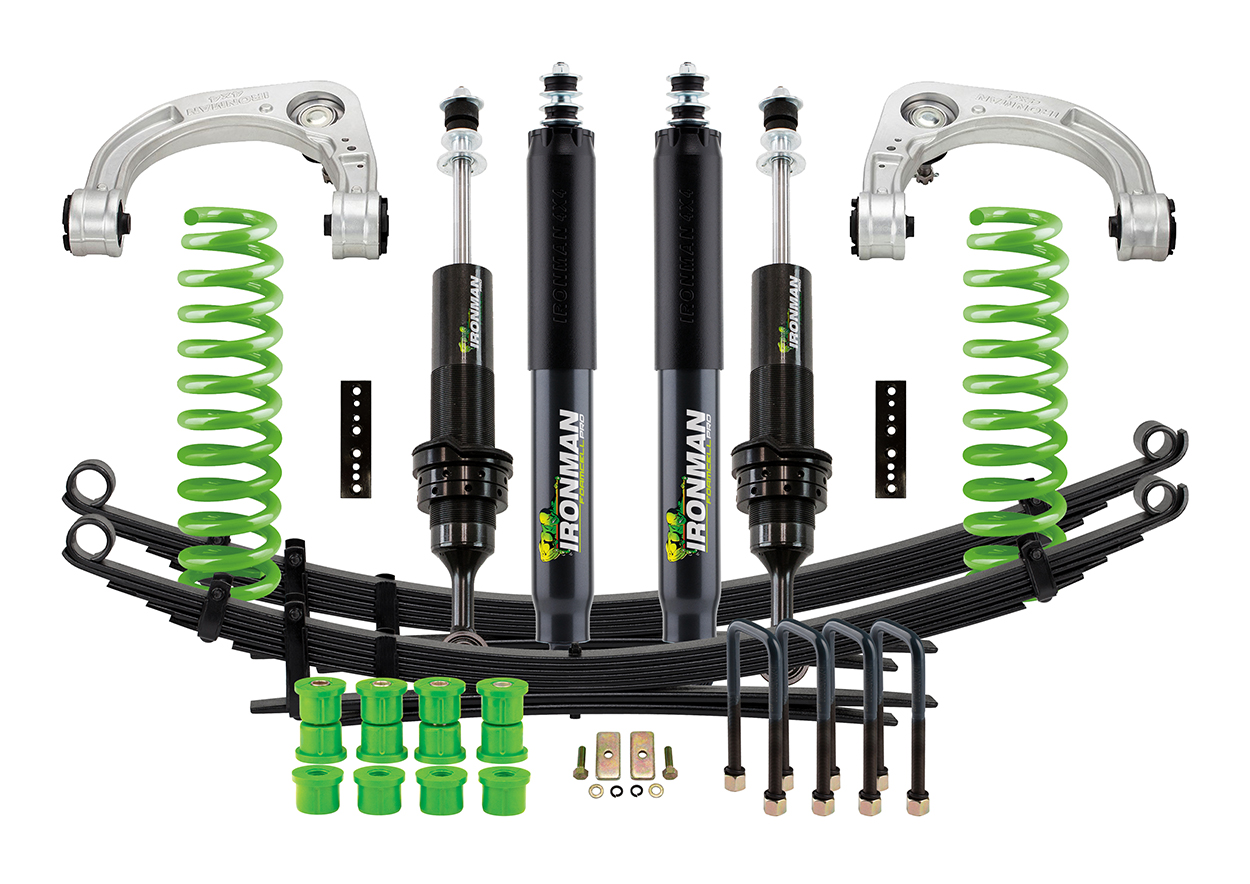 The Ironman 4X4 Foam Cell Pro Stage 2 kit is a truly complete kit.
Most companies' kits include two front coilovers and two rear shocks, and if you're lucky, they'll also include an add-a-leaf option for your factory rear leaf pack. Ironman, however, goes above and beyond this industry norm.
Their kit includes (2) 2.8" outer diameter front coilovers, (2) 2.8" outer diameter rear shocks, (2) new upper control arms, (2) new medium-duty or heavy-duty leaf packs, (4) composite leaf spring bushings, (4) extended U-bolts and new hardware, a front sway bar relocation kit, and a driveline spacer kit!
When ordering your kit, Ironman gives you a few options. For the front springs, you have 3 options: 2.5″ of lift with coils made to handle between 0-110 lbs of additional payload or 110-220 lbs of additional payload, and 3″ of lift made to handle between 0-110 lbs of additional payload. For the rear, you have two options for leaf springs, both provide 2.5″ of lift, one option for 0-440 lbs of payload, and the other for 440+ lbs.
Finally, you have the option to have Ironman 4X4 pre-build your front coilovers. To save me some time, and avoid any mishaps, I decided to have Ironman sent me the complete coilover already assembled. Worth it.
This kit includes everything you need to get your Toyota Tacoma lifted. Although this install will be on a 3rd Gen Tacoma, the kit fits on all 2nd and 3rd Gens. The process will be almost identical between the generations.
Find It Online
Ironman 4X4 2005+ Toyota Tacoma Stage 2 Foam Cell Suspension Kit: Check Price
TOOLS & MATERIALS NEEDED
For this installation, you will need the following tools
INITIAL IMPRESSIONS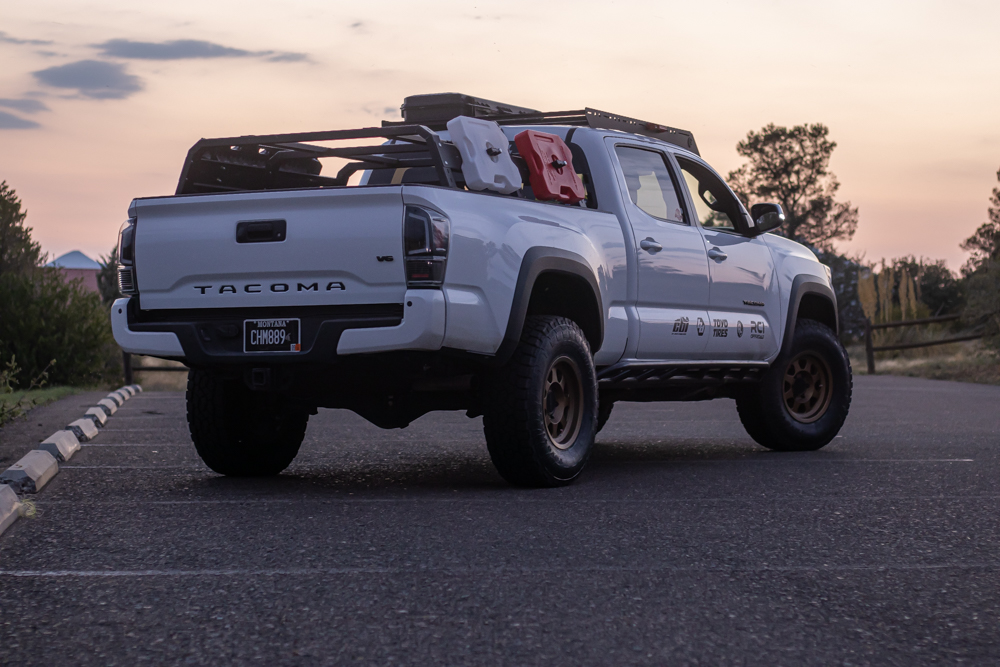 Throughout the installation process, I was impressed and surprised by the build quality of these suspension components. Everything felt great in my hands and seemed very durable. The ease of having everything you need in one single kit is incredible, as no other kit from any manufacturer is as inclusive and complete. Not having to search around on YouTube and forums for the best components to order separately, wait for them to be shipped, and potentially miss a crucial part put me at ease, and made the installation more stress-free.
After everything was installed, I took a test trip to some pretty rough back roads. The Stage 2 kit performed flawlessly on washboard roads with deep ruts, rocky and gravel roads, and even large bumps and whoops. The truck feels completely planted on the road surface no matter what your driver input is, and the dampening is unreal. The front springs help you float over even the most difficult and abrupt obstacles, and the front shocks control your damping and rebound effortlessly.
UPGRADING FROM STOCK SUSPENSION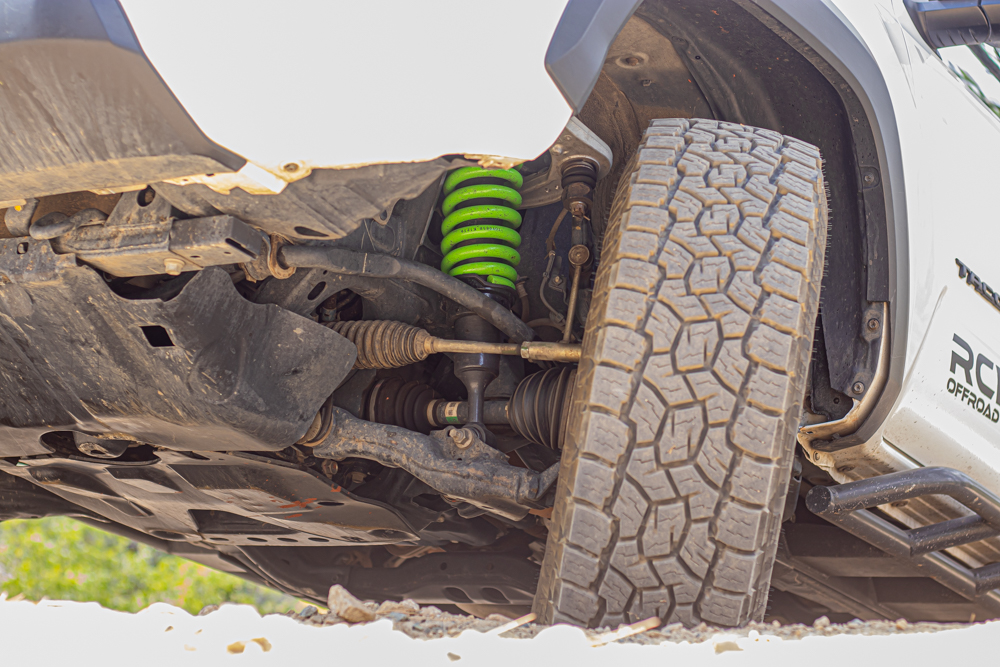 The biggest problem with the stock suspension was how out of control the body movement was because rebound was so harsh. This new kit keeps you feeling in control through every obstacle. Before this suspension, I could feel the factory shocks fading almost instantly, as soon as 5 minutes into the trip.
This made long wheeling trips, no matter what difficulty, uncomfortable and unpleasant. The Foam Cell Pro Stage 2 kit completely changes that! I didn't notice any shock fade until over an hour into my very harsh testing trip, and I'm confident it wouldn't be noticeable at all unless you are pushing your truck hard. The fade was minimal and didn't leave the truck feeling out of control like the factory shocks did.
The rear of the truck is much less jittery than stock but is still prone to a little stiffness because of my medium-duty leaf pack. I would recommend getting some weight on the back of your truck before upgrading to this leaf pack to keep the ride smooth. It should perform flawlessly when my tent is installed, and I can already tell the damping is completely under control.
FINAL THOUGHTS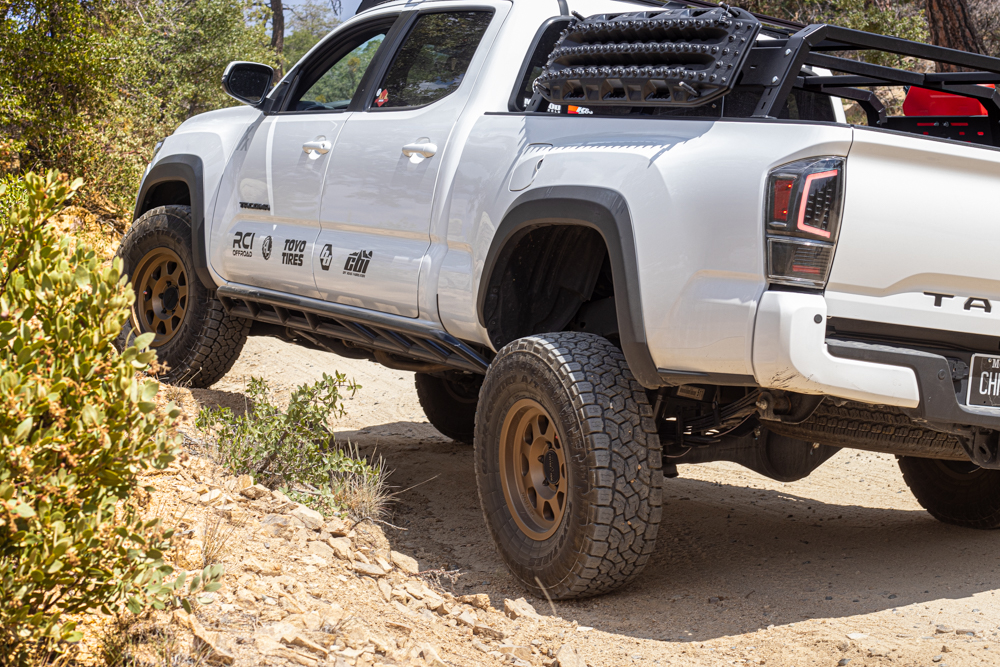 On the road, the truck feels completely different. The added stiffness of the ride keeps the body roll to an absolute minimum, making corners effortless. Don't worry about the stiffness though, as small potholes and bumps in the road are not as jarring as before.
I was fearful I would lose the on and off-road feedback from the steering and the suspension after upgrading the kit, that the truck would feel sloppy or dull. However, the steering is still sharp and responsive, and feedback of the road surface is even better than the stock suspension. The truck is much more fun to drive, and much more comfortable in all settings.
After this trip and some in town and highway driving, I got a proper alignment to take advantage of the built-in 4 degrees of caster from the upper control arms and returned to the truck to make sure everything was still torqued down to spec and nothing had worked loose. Check all connections and bolts to make sure they are still at the torque spec and everything is aligned properly after 500 miles or so.
If I could have done anything differently, I wouldn't have. Ironman 4×4 makes a complete, solid suspension kit that greatly improves the capabilities and comfort of the 3rd Gen Tacoma at an unbeatable price.
Full install and review available at Trail Tacoma
ADAM - @REDROCKTACO
Hey guys, I'm Adam! I'm a Tacoma enthusiast and overlanding novice with a passion for the great outdoors. As a proud do-it-yourself-er, I intend to explore the best ways to get you and your rig out on the trail.