Build Package Suited For 2016-2021 Toyota Tacoma
Build up your Tacoma with this convenient bundle of gear to get your adventure started. We put together a great selection of products to set up your vehicle for 4WD touring while still maintaining its daily drivability.
All aspects were considered from driving comfort and performance to armor protection and vehicle recovery.
Just add fuel.
Foam Cell Pro Suspension System
The Ironman 4x4 Foam Cell Pro Stage 2 Lift Kit suited for the 2005+ Toyota Tacoma combines upgraded on-road dynamics, dramatically reducing body roll and increasing stability with excellent off-road touring performance.
Our Foam Cell Pro shock absorbers feature a tough, military spec, big bore 3" twin-tube shock, the largest, strongest shock on the market; they are nearly indestructible, carry no internal parts which can jam, require little to no service, and are rebuildable.
The Stage 2 Kit includes our drop-forged Tacoma upper control arms, (UCA's) providing additional strength and 4 degrees of caster correction. Returning the vehicle suspension geometry to the manufacturer's specifications and again, requiring next to no servicing. Just set it, and forget it.
Raid Series Armor
The Ironman 4x4 Raid series front bumper uses our two-stage attachment design, connecting the winch cradle directly to the chassis for the most robust possible recovery platform. Alternative one-piece bumpers pull from the bumper shell, causing twisting and potential deformation to the steel bumper and vehicle. In addition, the frame-mounted rated recovery points give you a concrete foundation for recovery or towing.
Additional Features:
Two-part front bumper design with a winch cradle mounted directly to the chassis for the strongest and safest possible winching platform for the harshest recovery situations
Bolt-on, frame-mounted recovery points included with the bumper
Integrated crumple zones transfer energy away from vehicle occupants
ADR 69, 73 approved (Full Frontal and Offset Impact Occupant Protection)
Tested to the highest standards in compliance with Australian Design Regulation, SRS Airbag tested and certified
Winch compatible with clutch handle access and line visibility
Standard 10" x 4.5" winch mount footprint
Pickled, cold-rolled steel manufacturing for impurity free template during assembly
Ultra-durable AKZO NOBEL Black Powder Coat and pre-treated steel for rust resistance
360° Robotic welding for consistently precise welds resulting in peak quality and unequaled strength
Bright Saber LED Dual Row Light Bar - 32"
Increased approach and departure angles provide maximum clearance for obstacles
Compatible with factory parking sensors
Underbody Protection
The premium underbody protection solution to safeguard against offroad damage from rocks, stumps and ground strike. These heavy duty skid plates cover sensitive components like the engine and transmission.
FABRICATED 4mm STEEL: Construction is up to 5x more impact and penetration resistant *(Than original 1.5mm pressed construction).
INTEGRATED FRAMEWORK: Design gives strength in most common strike zones, reducing plate deformation and deflecting force into load bearing elements.
RECESSED HARDWARE: Fully recessed high tensile mounting hardware protects all fasteners from damage and removes catch points resulting in a smooth skid-over surface.
3X MORE COVERAGE AREA: Over 3x more coverage than original protection plates. Radiator, Steering, Engine and Transmission.
TEXTURED POWDER COAT FINISH AND ANTI-CORROSION COATING: EDP E-Coat layer helps resist corrosion following impact strike, finished in a textured black powder coating.
SERVICE INSPECTION HOLES: Service inspection holes (where appropriate) allows for easy inspection and access during routine maintenance. (Ironman 4x4 recommends to remove protection plates when draining fluids)
Make
Model
Year
Toyota
Tacoma
2016
Toyota
Tacoma
2017
Toyota
Tacoma
2018
Toyota
Tacoma
2019
Toyota
Tacoma
2020
Toyota
Tacoma
2021
Not compatible with 2WD Toyota Tacoma models
PLEASE read all product page details for more fitment information
Trail Tacoma Reviews the Foam Cell Pro Suspension Lift Kit
"If you are considering building an overlanding/camping Tacoma, if you travel long distances on paved roads, or if you want more comfort and capability on moderate off-road challenges, this is the kit for you.

Even if you're hitting the occasional difficult trail, this kit gives you the articulation and stability you need to conquer tough obstacles. Not many kits in this price range can match the durability, build quality, capabilities, and completeness of this kit. I firmly believe these shocks will outlast my next three sets of tires, and they've completely changed how I view and experience trail riding.

Ironman products continue to surprise me, and I have to say, they definitely exceeded my expectations.

Most importantly… the RIDE! I am so impressed with how nice the ride is.

It is a perfect balance of firmness for control and softness for comfort. It has no issues handling bumps and dirt roads at speed, plenty of flex for getting up obstacles. Nosedive is cut dramatically steering and cornering is improved and it is not STIFF! It still feels like a truck but not abusive in the slightest." Trail Tacoma, read the full review here.
Trail Tacoma puts the Foam Cell Pro Suspension Lift Kit On Display:
Trail Tacoma Reviews the Raid Series Front Bumper Kit
"On the trail, this bumper performs amazingly. If you're going for a late-night trail run, the lights on this bumper will provide you with more than enough lumens to see where you are going and what is ahead of you. Also, one of the first things I noticed was how much greater of an approach angle I have now with the raid bumper on.

All in all, I am beyond stoked on this addition to my Tacoma. Along with all of the insane features that provide so many new off-roading functions, it also just looks so clean. With so many options on the market for front bumpers, it can be hard to select exactly which one is for you. Well, I'm not going to try to tell you what you should or shouldn't like. But, I can say that this bumper has by far had the most impact on both the aesthetic and functionality of my truck.

I can now get myself out if I get stuck on the trail with the winch, light up the entire forest with all of the Ironman LED lights, and I get about 15-20% more compliments from fellow Tacoma owners while out and about. No other modification has come close to providing me with that many benefits, and I am looking forward even more to hitting the trail and putting this thing to work! " Trail Tacoma, read the full review here.
Trail Tacoma puts the Raid Series Front Bumper Kit On Display: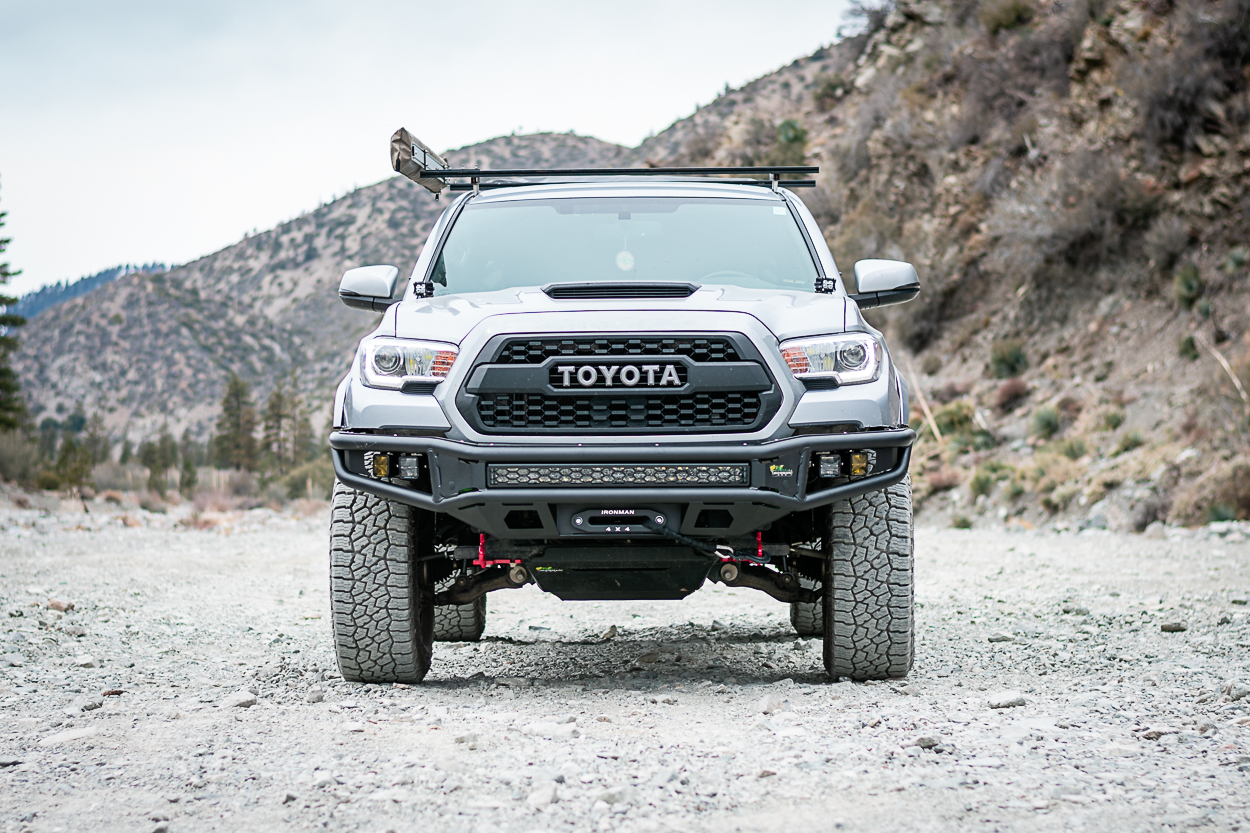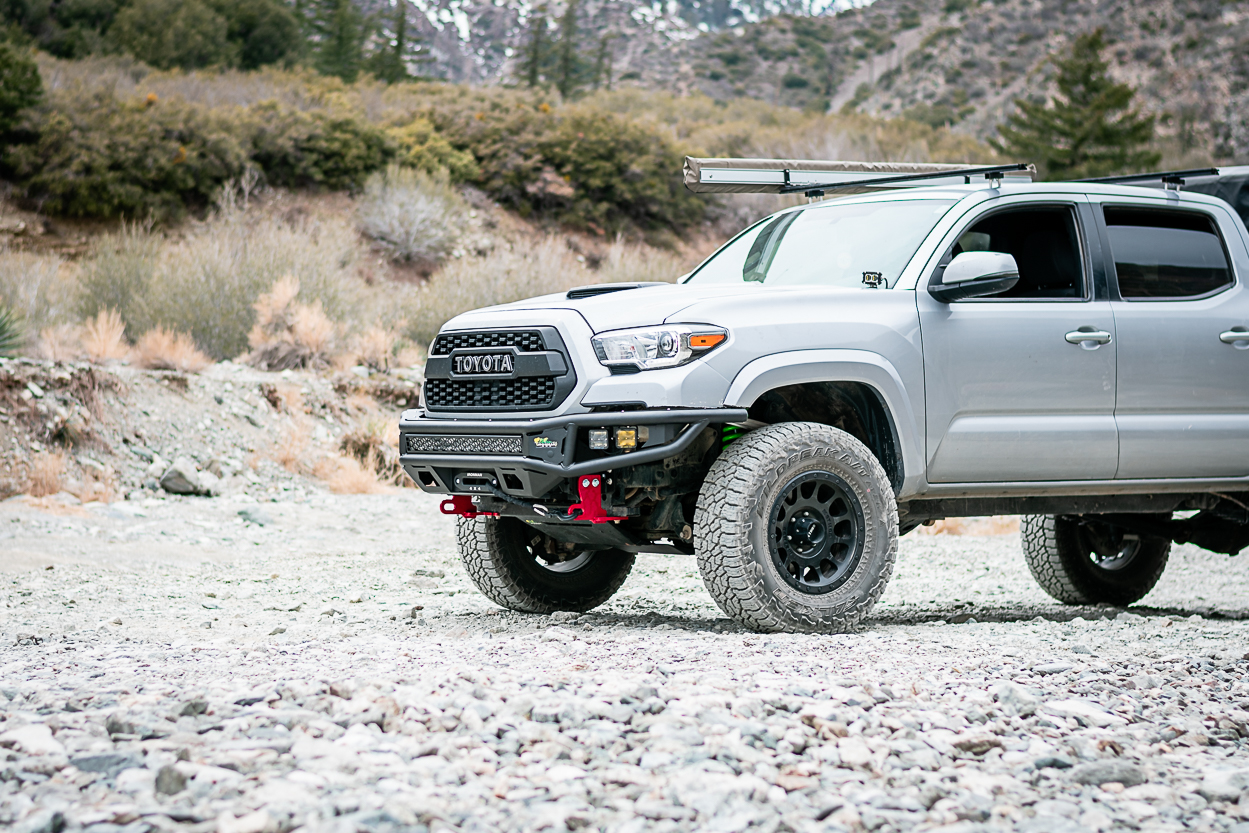 Trail Tacoma Reviews the Raid Series Rear Bumper Kit
"All in all, I am super stoked on this bumper. For a while, I never saw the appeal for aftermarket rear bumpers as they often looked bulky and overdone. But, Ironman designed this bumper very well with both protection and aesthetics in mind. In my opinion, the Raid rear bumper strikes a perfect balance between standing out in a crowd and not making my truck look overly bulky.

If you're on the lookout for an aftermarket rear bumper that will not only make your truck look mean but also provide greater protection when you're tackling a challenging obstacle, look no further.

Ironman does a great job at balancing beefiness without unnecessary bulk. I would highly suggest this bumper for anyone in the market for a rear bumper or even for those on the fence debating about whether or not they need one. Happy trails! " Trail Tacoma, read the full review here.
Trail Tacoma puts the Raid Series Rear Bumper Kit On Display: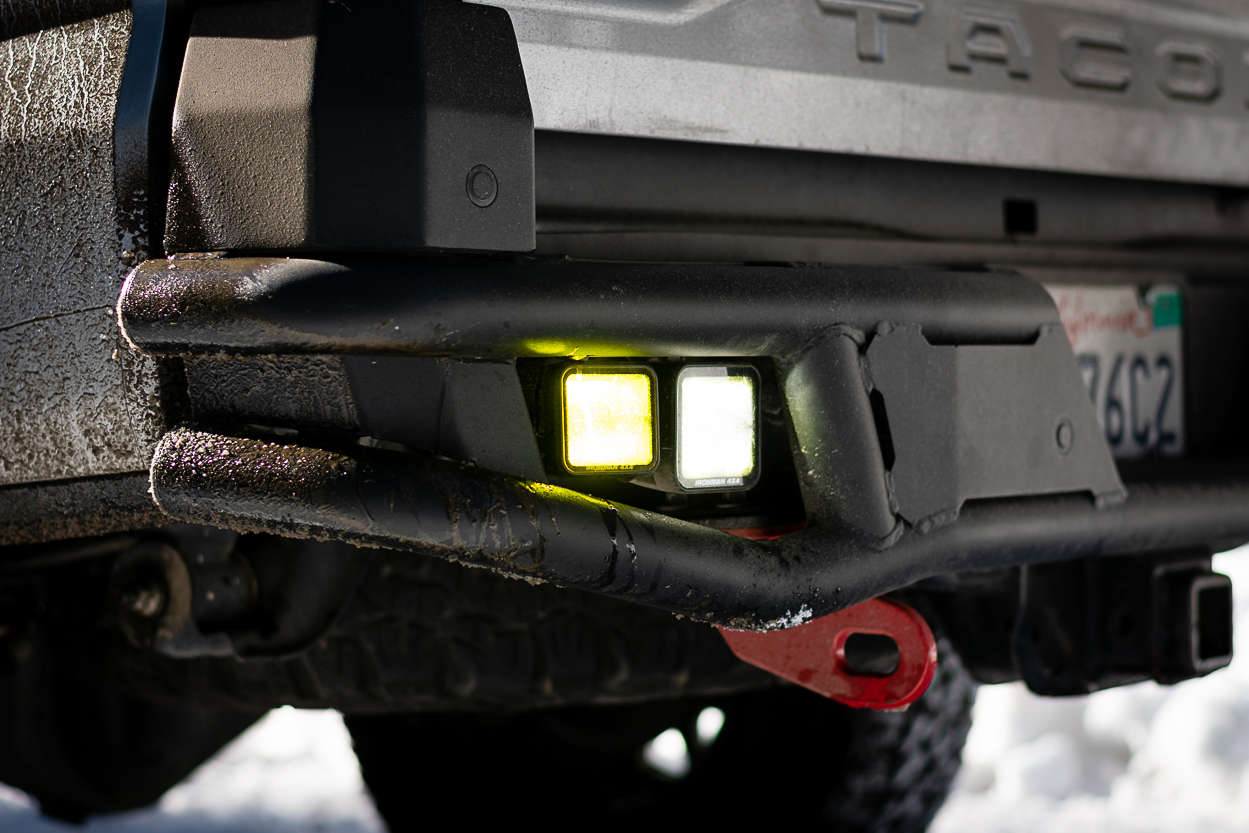 Trail Tacoma Reviews the Heavy Duty Skid Plate Kit
"I have to say that this kit impressed me more than I expected. The quality and design are top-notch, the price is extremely fair for what you get, and the performance has been excellent.

These skids are likely very close in strength to other, more expensive, and heavier kits, and do a great job of covering up the most crucial exposed underbody components. They haven't gotten caught up on any obstacles so far, everything glances right off.

I'd highly recommend everyone check out this kit—save weight and money without sacrificing any performance! " Trail Tacoma, read the full review here.
Trail Tacoma puts the Heavy Duty Skid Plate Kit On Display: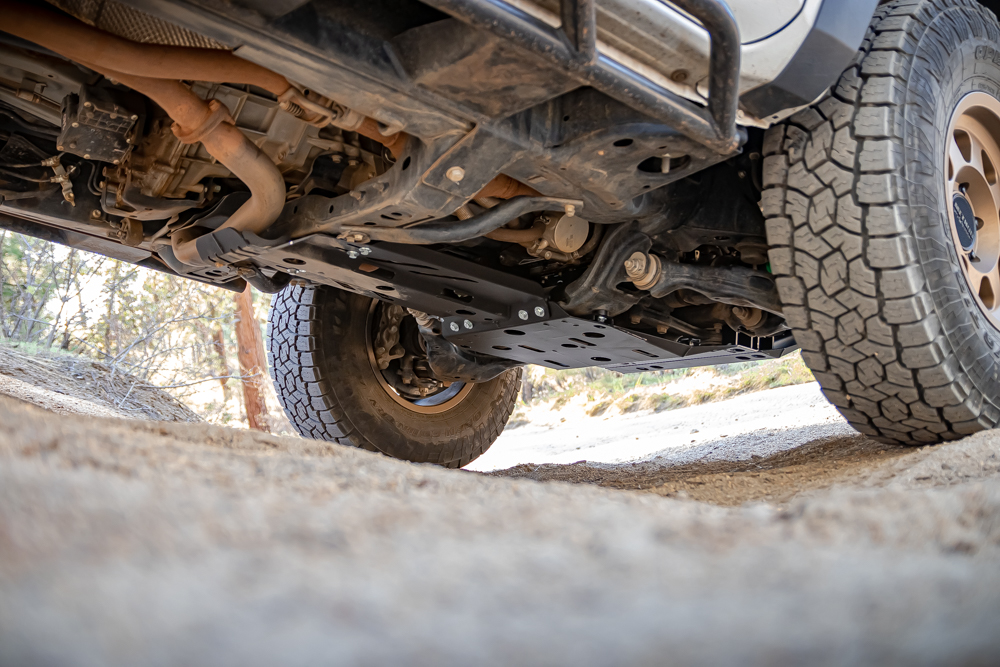 Specifications
Estimated Suspension Lift Height: 2-3"
Front Bumper Approximate Weight: 123lbs
Rear Bumper Approximate Weight: 105lbs
Skid Plate Approximate Weight: 81lbs
Not compatible with 2WD Toyota Tacoma models
This Kit Includes:
Front Coil Springs - (one set)
Rear Leaf Spring Drivers Side - (1)
Rear Leaf Spring Near Side - (1)
45710FE - Foam Cell Pro Struts (2)
45744FE - Rear Shock Absorber - Foam Cell Pro (2)
1192K - Center Bearing Spacer Kit (one set)
437UBK - Rear U-Bolt Kit (2)
1191UK - Rear Leaf Spring Polyurethane Bushings for the FRONT pin side of each leaf spring (4 bushings, 2 metal sleeves)
UCA001FAT - Pro Forged Front Upper Control Arms - (one set)
1198K - Front Sway Bar Spacer Kit
**NOTE** Please reuse your Toyota OEM rear shackles with their stock bushings. The included Ironman 4x4 poly bushings are for the front and rear eyelets of the Ironman 4x4 TOY066 leaf springs. Please do not remove the factory bushing from the rear shackle, leave the bushing in and reuse your stock shackles.
Raid Steel Front Bumper

Bolt-On installation with mounting hardware
Front Bumper Lighting - 1st Pair (depending on selection will include one of the following):
Front Bumper Lighting - 2nd Pair (depending on selection will include one of the following):
Raid Steel Rear Bumper

Bolt-On installation with mounting hardware



Rear Bumper Lighting - 1st Pair
Rear Bumper Lighting - 2nd Pair (depending on selection will include one of the following):
Bolt-On installation with mounting hardware



Ditch Light Kit (depending on selection will include one of the following):
NOTE:
The front bumper will not work with roller fairleads. This will only work with hawse fairleads.
Compatibility with TRD skid plate requires some modification and extra hardware not included.
Does not include wiring harnesses. Recommended wiring harness setup:
Installation
Suspension Kit Installation Video:
Front Bumper Install Video:
Rear Bumper Install Video:
Winch Installation Notice:
We recommend that when installing any Ironman 4x4 Monster Winch to check that the length of bolt thread is sufficient to secure the winch to the mounting cradle.
Some mounting cradles may have a thicker or dual-skinned mounting plate which may render the supplied bolts too short once installed with a spring & flat washer. There must be 1-3 threads protruding beyond the nut when fully tightened. To ensure the winch is secured correctly.
If at least 1 thread is not protruding beyond the nut, it is recommended that a longer bolt is sourced from your local supplier to the following specifications:
Hex Nut, M10 x 40mm x 1.5p Grade 8.8 or Higher
See the photo below for proper installation:
IT'S A RAID | Off-Road Bumpers Provide Strength and Safety
IT'S A RAID | ...

Foam Cell Pro ...

Foam Cell Pro ...