Eclipse 5x7 LED Driving Light
Bringing back the retro style in driving lights with these 5x7 Eclipse LED's.
The perfect rectangle shape combined with a side shooter spread provides straight up distance with a pleasing amount of spread.
Designed and engineered to produce the closest imitation light to natural daylight (6000K), the 5x7 Eclipse provides a beam reach of over 1.3km with a combined wattage of 99W per light.
Ironman 4x4'S Tri-Force Technology
We wanted to re-define what LED lights and light bars are on the market. We set out to bring a seamless blend of performance and value with our line of LED lights. We developed Tri-Force technology, which is the 3 pillars of performance that go into all of our LED lights. Bringing a new standard in offroad lights in performance and value.
Extreme Projection Reflectors (EPR)
After extensive testing in the Australian outback and seeing the shortfalls in beam pattern from other lights on the market, we developed EPR Tech. Starting with the bucket depth and shape all the way down to revamping the polishing process, we left no stoned unturned. The result; the most usable beam patterns on the market that cover the ground in a seamless blanket of light. The symmetrical beam is a mixture of optimal proportions of side to side and foreground lighting with a hyper long-range center beam for when you reach higher race type speeds.
Corrosion Defense System (CDS)
We wanted to stand out, in the look of our lights and also with the quality and durability. The engineering of the CDS (Corrosion Defense System) coating came about after months of R&D that consisted of ultra-violet, salt spray, and vibration testing; all while watching the competition fall apart. The impressive look of our gunmetal color has been upgraded with a precise mixture of hardeners and flex components that far exceed the fade and chip resistant capabilities of any other light coatings on the market.
Advanced Optical Clarity (AOC)
Applying similar manufacturing processes from high-end watchmakers, we developed what we believe to be the highest optical clarity and UV fade resistance lenses to date. You can be assured the entire light output produced from the LED chips and reflectors are not getting hung up by the lens.
Trail Tacoma Reviews the Eclipse 5X7 LED Driving Light
"These lights are the real deal—...They've remained crystal clear so far, and there are no chips or damage in the lenses or the body. The heat sinks on these lights not only look fantastic, but they help keep these lights cool.
All in all, Ironman continues to impress us all with these top-of-the-line, no corners cut (and reasonably priced) products. The shipping was fast, customer service was very helpful in answering all my questions, and the lights exceeded my expectations in both build quality and lighting output. I'm left wondering what Ironman 4X4 can't do."
–Trail Tacoma read the full review here.

Trail Tacoma puts the Eclipse 5X7 LED Driving Lights on display: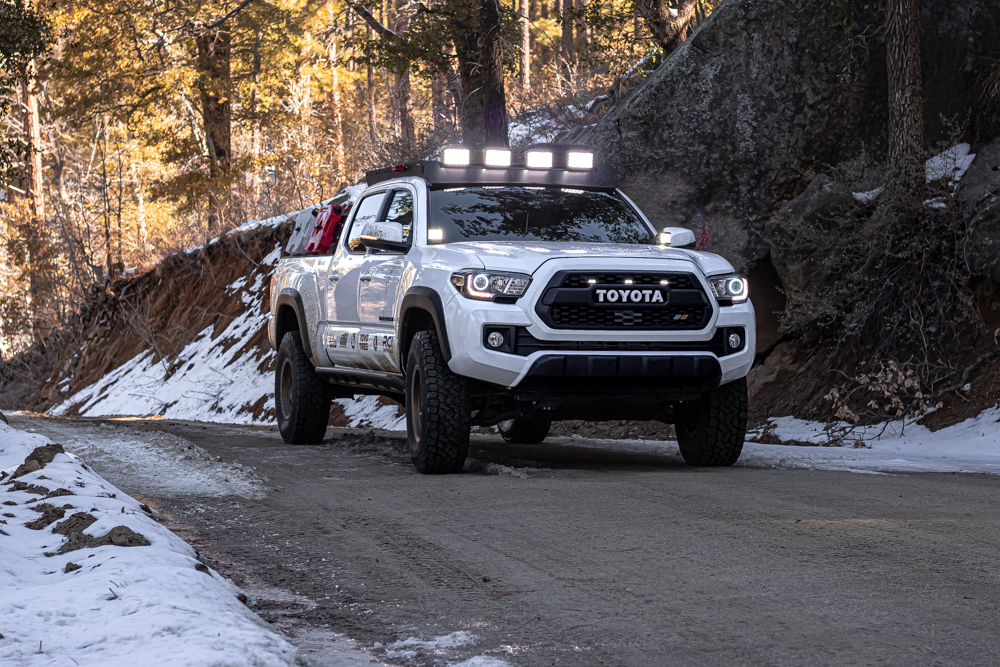 Specifications
6000K white light to imitate natural daylight.
140 degree beam
15 x 5W and 8 x 3W high lux output Osram LED's.
75W driving light, 24W side shooter spread beam for a combined 99W high lux output delivers a beam distance of over 1.3km.
7540 raw lumens and 6000K white light imitates natural daylight.
Rated to IP67 - Water and dust ingress protection.
Heavy duty diecast alloy housing with a shockproof polycarbonate lens and stainless steel mounting bracket.
Operating voltage 10-30V DC
Current 6.48A@12V / 3.21A@24V
Suggested Ironman 4x4 loom part number IWHL002
Warranty
Click here for more details.
Ironman 4x4 | Putting the Lighting Game on Notice