Heavy Duty Skid Plate Kit Suited For 2005-2023 Toyota Tacoma
The premium underbody protection solution to safeguard against offroad damage from rocks, stumps and ground strike. These heavy duty skid plates cover sensitive components like the engine and transmission.
FABRICATED 4mm STEEL
Construction is up to 5x more impact and penetration resistant*
*(Than original 1.5mm pressed construction).
INTEGRATED FRAMEWORK
Design gives strength in most common strike zones, reducing plate deformation and deflecting force into load bearing elements.
RECESSED HARDWARE
Fully recessed high tensile mounting hardware protects all fasteners from damage and removes catch points resulting in a smooth skid-over surface.
3X MORE COVERAGE AREA
Over 3x more coverage than original protection plates. Radiator, Steering, Engine and Transmission.
TEXTURED POWDER COAT FINISH AND ANTI-CORROSION COATING
EDP E-Coat layer helps resist corrosion following impact strike, finished in a textured black powder coating.
SERVICE INSPECTION HOLES
Service inspection holes (where appropriate) allows for easy inspection and access during routine maintenance. (Ironman 4x4 recommends to remove protection plates when draining fluids)
Make
Model
Year
Toyota
Tacoma
2005
Toyota
Tacoma
2006
Toyota
Tacoma
2007
Toyota
Tacoma
2008
Toyota
Tacoma
2009
Toyota
Tacoma
2010
Toyota
Tacoma
2011
Toyota
Tacoma
2012
Toyota
Tacoma
2013
Toyota
Tacoma
2014
Toyota
Tacoma
2015
Toyota
Tacoma
2016
Toyota
Tacoma
2017
Toyota
Tacoma
2018
Toyota
Tacoma
2019
Toyota
Tacoma
2020
Toyota
Tacoma
2021
Toyota
Tacoma
2022
Toyota
Tacoma
2023

Not compatible with 2WD Toyota Tacoma models
PLEASE read all product page details for more fitment information
Trail Tacoma Reviews the Heavy Duty Skid Plate Kit
"I have to say that this kit impressed me more than I expected. The quality and design are top-notch, the price is extremely fair for what you get, and the performance has been excellent.

These skids are likely very close in strength to other, more expensive, and heavier kits, and do a great job of covering up the most crucial exposed underbody components. They haven't gotten caught up on any obstacles so far, everything glances right off.

I'd highly recommend everyone check out this kit—save weight and money without sacrificing any performance! " Trail Tacoma, read the full review here.
Trail Tacoma puts the Heavy Duty Skid Plate Kit On Display: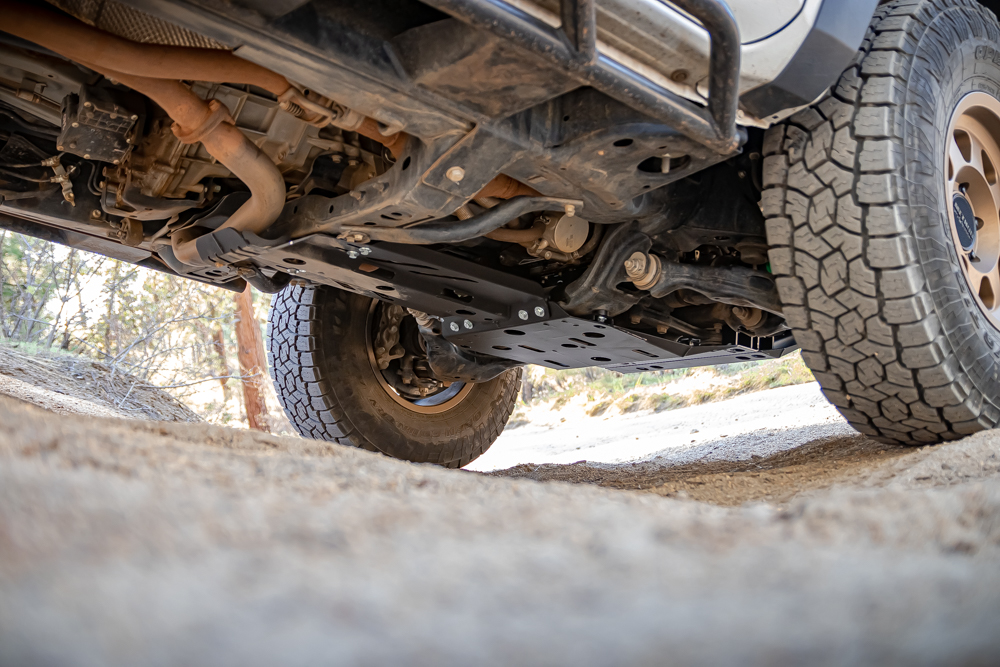 Trail Tacoma Reviews the Heavy Duty Skid Plate Kit
Aluminum Vs Steel Skid Plates
"Ironman 4X4 Heavy-Duty Steel Skid Plate Kit strikes a good balance between weight and protection. The kit has a 4mm thick steel construction – equivalent to a little over 1/8″ – and it has a ton of sleek features so that it can perform best when on the trail. Another cool little feature that makes this kit all the better is the integrated service inspection holes that allow you to drain fluids from the bottom of your truck when you're completing a service without removing the entire skid assembly.

One cool aspect that I love about this set is the recessed hardware locations. The bolt heads sit above the surface of the bottom of the skids, so when you have to penguin slide over a pile of rocks, those bolts won't get you hung up.

The Ironman kit provides one of the best all-around skid plate packages. An almost perfect combination of weight, price, and durability. If you're looking for an excellent skid plate package, I highly recommend you look at this choice from Ironman. Similar enough in weight to an all aluminum set, and plenty of protection, but at a MUCH better price point." Trail Tacoma, read the full review here.
Trail Tacoma puts the Heavy Duty Skid Plate Kit On Display:
Specifications
4mm steel thickness
Recessed Hardware
Gusseted reinforced framework for strength
Exhaust crossover pipe protection
Weight: 81lbs
Not compatible with 2WD Toyota Tacoma models
Installation
View Instruction Sheet
Install Video:
Ironman 4x4 Heavy Duty Skid Plate Kit Suited for Toyota Tacoma | Install Guide
Ironman 4x4 He...

Protect Vital ...