Raid Front Bumper Kit Suited for 2016+ Toyota Tacoma
The world's first fully crash safety tested and SRS airbag compatible tubular style bumper to suit 2016 + Toyota Tacoma.
Leveraging our experience of designing and manufacturing vehicle armor for military, fleet, and recreational purposes, the mission was to create the safest, most feature-loaded 4x4 steel Tacoma bumper on the market.
Raid Front Bumper Kit 2016+ Toyota Tacoma
The RAID 4x4 bumpers blend the Australian mindset of functionality with American design characteristics. As a result, the protective Tacoma bumper provides you and your passengers maximum safety for daily driving with the essential trail-ready features of improved vehicle protection, increased approach angle, additional ground clearance, and winch carrying capability. 
The Ironman 4x4 Raid front bumper uses our two-stage attachment design, connecting the winch cradle directly to the chassis for the most robust possible recovery platform. Alternative one-piece bumpers pull from the bumper shell, causing twisting and potential deformation to the steel bumper and vehicle. In addition, the frame-mounted rated recovery points (5,000kg/11,000lbs) give you a concrete foundation for recovery or towing. 
The Raid off-road steel bumper can come fully loaded with a 32", 300W dual row OSRAM chip LED light-bar delivering projection of 25000 Raw lumens into the road ahead for confidence-boosting visibility in nighttime driving. The new hooded reflectors direct the light beam more effectively and reduce glare commonly found in light bars.
In addition to the powerful light-bar are four customizable OSRAM chip LED cube lights with up to 4800 lumens; choose between clear or amber, spot or flood. All lights feature a flat, UV-stable polycarbonate lens designed to reduce rain/snow/ice build-up.
For 360 degree protection and further enhancement of on/off-road features for your Toyota Tacoma, pair with the RAID rear steel bumper, and RAID frame mounted heavy duty side steps, and our heavy duty skid plate kit.
Bumper requires minimal amount of trimming to front fender plastics.
Additional Features:
Two-part front bumper design with a winch cradle mounted directly to the chassis for the strongest and safest possible winching platform for the harshest recovery situations
Bolt-on, frame-mounted recovery points (5,000kg/11,000lbs) included with the bumper
Integrated crumple zones transfer energy away from vehicle occupants
ADR 69, 73 approved (Full Frontal and Offset Impact Occupant Protection)
Tested to the highest standards in compliance with Australian Design Regulation, SRS Airbag tested and certified
Winch compatible with clutch handle access and line visibility
Standard 10" x 4.5" winch mount footprint
Only compatible with 9500lbs winch
Pickled, cold-rolled steel manufacturing for impurity free template during assembly
Ultra-durable AKZO NOBEL Black Powder Coat and pre-treated steel for rust resistance
360° Robotic welding for consistently precise welds resulting in peak quality and unequaled strength
Increased approach and departure angles provide maximum clearance for obstacles
Compatible with factory parking sensors
Make
Model
Year
Toyota
Tacoma
2016
Toyota
Tacoma
2017
Toyota
Tacoma
2018
Toyota
Tacoma
2018
Toyota
Tacoma
2019
Toyota
Tacoma
2020
Toyota
Tacoma
2021
Toyota
Tacoma
2022
Toyota
Tacoma
2023
Not compatible with 2WD Toyota Tacoma models
PLEASE read all product page details for more fitment information
Trail Tacoma Reviews the Raid Front Bumper Kit
"On the trail, this bumper performs amazingly. If you're going for a late-night trail run, the lights on this bumper will provide you with more than enough lumens to see where you are going and what is ahead of you. Also, one of the first things I noticed was how much greater of an approach angle I have now with the raid bumper on.

All in all, I am beyond stoked on this addition to my Tacoma. Along with all of the insane features that provide so many new off-roading functions, it also just looks so clean. With so many options on the market for front bumpers, it can be hard to select exactly which one is for you. Well, I'm not going to try to tell you what you should or shouldn't like. But, I can say that this bumper has by far had the most impact on both the aesthetic and functionality of my truck.

I can now get myself out if I get stuck on the trail with the winch, light up the entire forest with all of the Ironman LED lights, and I get about 15-20% more compliments from fellow Tacoma owners while out and about. No other modification has come close to providing me with that many benefits, and I am looking forward even more to hitting the trail and putting this thing to work! " Trail Tacoma, read the full review here.
Trail Tacoma puts the Raid Front Bumper Kit On Display: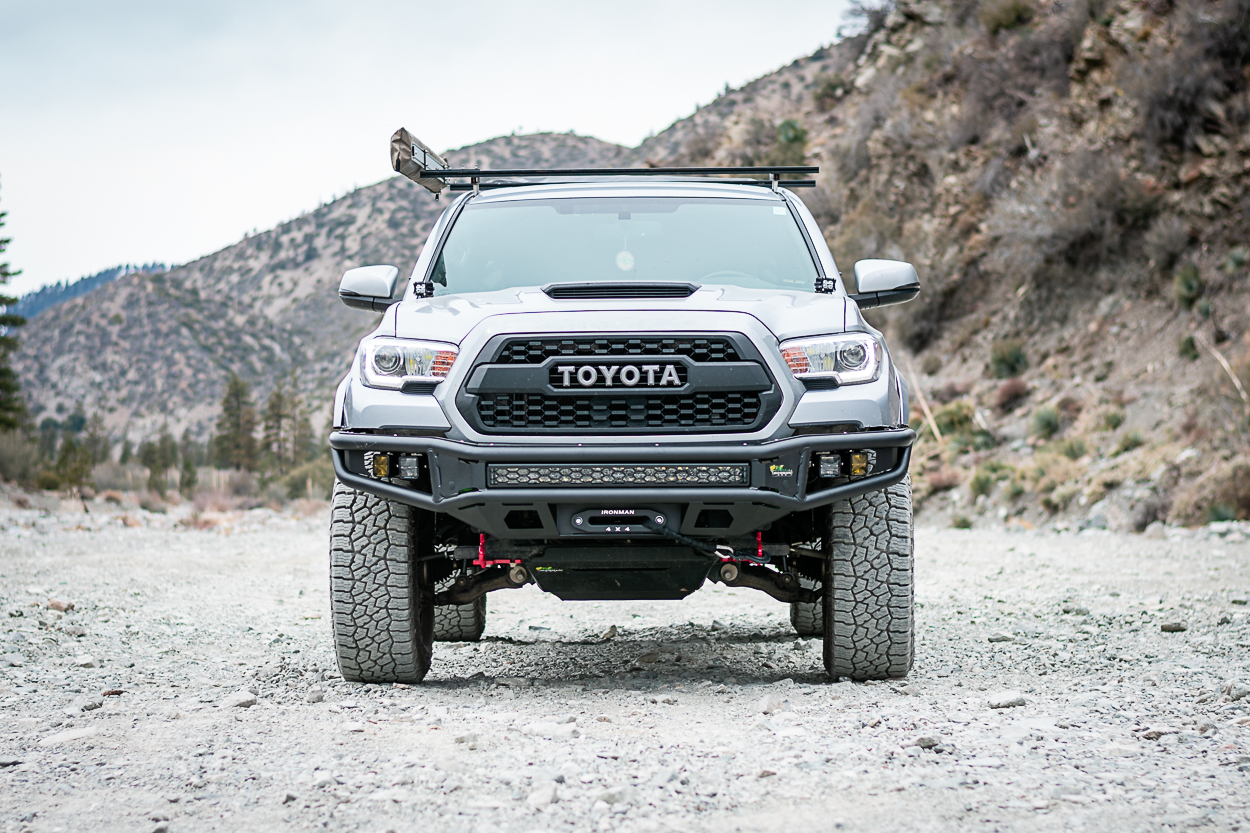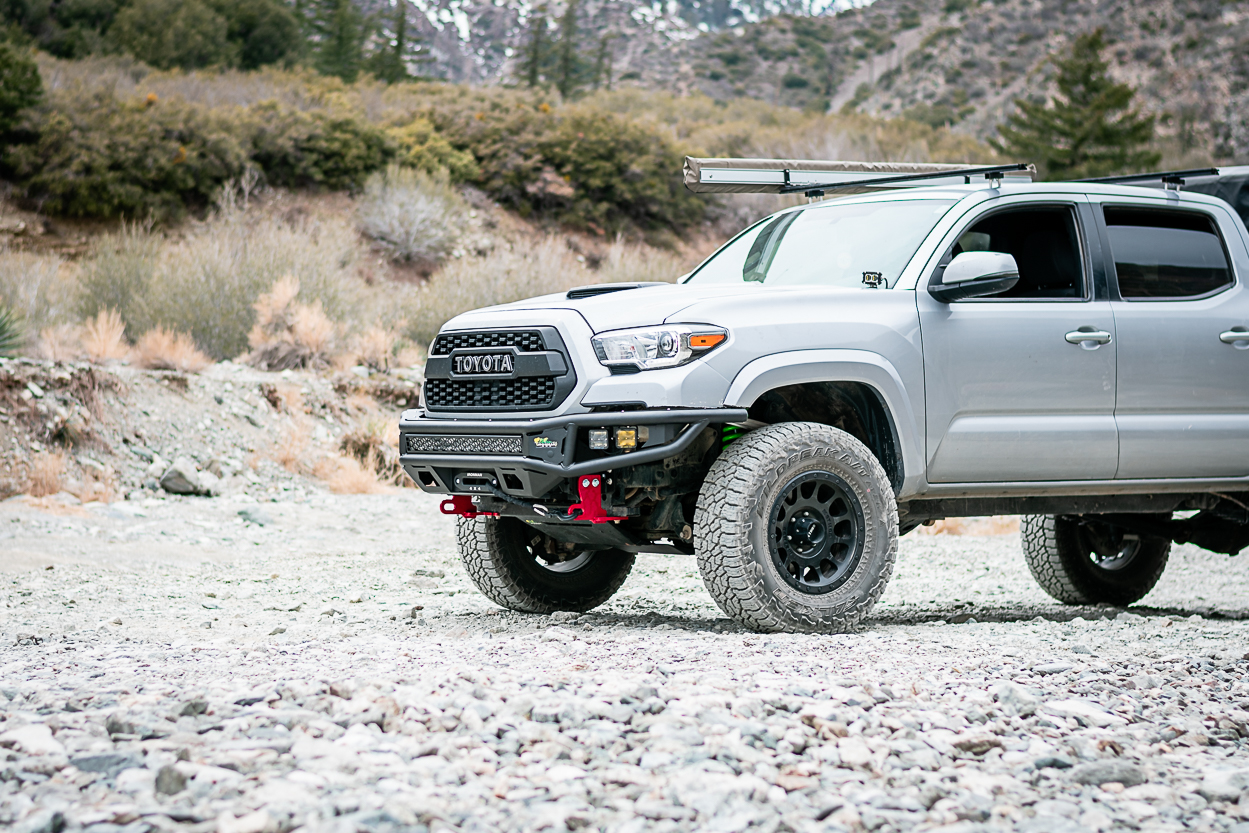 Specifications
Front Bumper Approximate Weight: 123lbs
This Kit Includes:
Raid Steel Front Bumper

Bolt-On installation with mounting hardware



Front Bumper Light Bar (depending on selection can include):
Front Bumper Lighting - 1st Pair (depending on selection can include one of the following):
Front Bumper Lighting - 2nd Pair (depending on selection can include one of the following):
NOTE:
The front bumper will not work with roller fairleads. This will only work with hawse fairleads.
Compatibility with TRD skid plate requires some modification and extra hardware not included.
Only compatible with 9500lbs winch.
Not compatible with 2WD Toyota Tacoma models
A 3rd pair of front bumper lights can be purchased separately as shown on the pictures of the black Tacoma. Compatible work lights can be purchased here:
The Raid Front Bumper is only compatible with synthetic rope winches.
Does not include wiring harness. Recommended wiring harness setup:
View Factory Bumper Cut Template
Front Bumper Install Video:
Winch Installation Notice:
We recommend that when installing any Ironman 4x4 Monster Winch to check that the length of bolt thread is sufficient to secure the winch to the mounting cradle.
Some mounting cradles may have a thicker or dual-skinned mounting plate which may render the supplied bolts too short once installed with a spring & flat washer. There must be 1-3 threads protruding beyond the nut when fully tightened. To ensure the winch is secured correctly.
If at least 1 thread is not protruding beyond the nut, it is recommended that a longer bolt is sourced from your local supplier to the following specifications:
Hex Nut, M10 x 40mm x 1.5p Grade 8.8 or Higher
See the photo below for proper installation:
Ironman 4x4 Raid Front Bumper Suited For 2016+ Toyota Tacoma | Install Guide
Ironman 4x4 Ra...

Raid Series Fr...

IT'S A RAID | ...

Raid Series Bu...